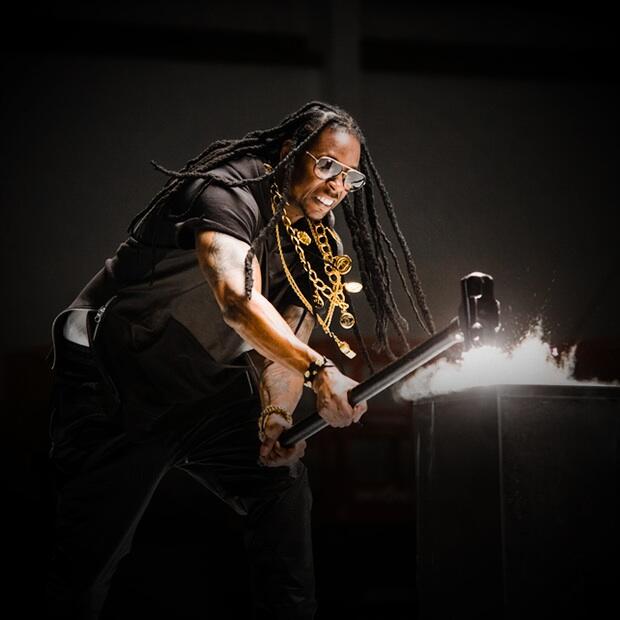 Every rapper who's relevant in the industry has a reason to be. Each person appeals to a specific group of followers who can relate. The style of each artist contains something that makes him or her stand out from the rest. Drake offers intellectual wordplay on softer topics (for the most part). Kendrick spits poetic forms of personal anecdotes. And 2 Chainz… well, he created his own, quirky lane in the game with a unique flow and basic rhymes. Yet, they were very clever, amusing and likable; at least on his debut "Based on a T.R.U. Story" and notable tape "T.R.U. REALigion".
In the midst of about a dozen highly anticipated albums this year, 2 Chainz made a second attempt at keeping himself just as significant. Based on a T.R.U. Story II: #MeTime may have dropped a little sooner than it should have, resonating underdevelopment.  Tity Boi continues his ridiculous lyricism on this compilation. However, at this point, it's not working as well for him. It's played out, lacking originality and wit. B.O.A.T.S. II offers records on the same crude, drug peddling, moneymaking content as its prequel, but with sloppier, lazier lyricism and flow.
His overexaggerated ego hasn't gone anywhere, either.  In "Black Unicorn" he has nerve to recycle Jay-Z's "Moment of Clarity" line, spitting, "Lyrically I could be Talib Kweli". Yet, this line in the compilation's opener "Fork" somehow made it through the final editing cut: "My wrist deserve a shout out, I'm like 'what up wrist?!'/My stove deserve a shout out, I'm like 'what up stove?!'" …Now, I could have come up with something more creative than that.
His flow would be on point, had he refined his lyrics to be in tune with the beats. On one of the bonus tracks, "Employee of the Month", 2 Chainz's lyrics and the Diplo produced backdrop are severely out of sync, making it almost agonizing to listen to. He rushes through his lines to even them out with the instrumental, ending the first verse with an awkward flow: "I got balance and them Balenciagas/And I woke up, whole enchilada/I got a b-tch beside, I got a b-tch beside". The beat is airy and light-hearted, while 2 Chainz attempts to rap over it with his boisterous voice; the two just don't mesh.
This happens all over the album. He gathered himself a lovely repertoire of producers to provide a variety of backdrops, from Pharrell on "Feds Watching", J.U.S.T.I.C.E. League on "So We Can Live" and a couple appearances from Mike Will Made It and Da Honorable C.N.O.T.E.
He even got Cash Money's Mannie Fresh to reproduce a rendition of "Back That Thang Up", titled "Used 2, where Chainz drastically fails to add any type of artistic value. He raps, "Yeah, I'm the n-gga, yeah/Don't forget it, yeah/Gold neck Tity, yeah/Lamborghini, yeah." It clearly didn't matter to him what the song was exactly about, as long as every line ended with the same monotonous word.
This album proves that he definitely still carries his own flair. However, snappy punchlines like, "I'm rich, like Lionel" heard in "Extra" and "Pull your girl off my car, that's that whip appeal" in "U Da Realest" came few and far between. Maybe he should've waited longer than just over a year to produce and put out a more complete piece of work. We're still turning up to "I'm Different" out here.